Leave a comment in our guestbook!

Lorene
on - from
Edmonton AB Canada
We spent a very fun day touring tha Amalfi Coast with Raphael, the most excellent driver! He drove, we watched the amazing scenery and had the chance to learn a lot about Italy. He knew exactly what we wanted to do without us telling him and provided a great restaurant option in Scala and in Sorrento. Thank you Raphael for a wonderful, memorable day ciao Brad & Lorene
---

Lorraine & Ed Kennedy
on - from
Baltimore, MD
We would like to comment on the excellent service provided by our driver, Raffaele. He was always on time, drove us safely around the Amalfi Coast, and provided excellent information on the area. He recommended a wonderful restaurant in Scala with outstanding views of Ravello and the Mediterranean. We thoroughly enjoyed the experience. Thank you Raffaele!
---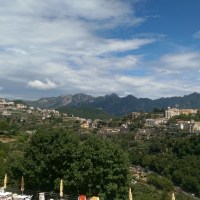 Jared Stewart
on - from
Seattle, WA
Raffaele was great. He drove us from Sorrento down the Amalfi coast, patiently stopping to let us take pictures and telling us about the history of the beautiful towns we were seeing. We gave him very little direction of what we wanted to see, and simply let him pick the attractions for us. For lunch he took us to a beautiful location where the food and wine were amazing, and the view even better. He made our trip. Thanks, Raffaele!
---

Paul Grimond
on - from
Bradenton Florida
We used the car service all week and it was fantastic. Always on time and courteous. Raffaele looked after us all day when we visited Naples and he was brilliant giving us a great tour of the city. Thank you to all the drivers.
---

Danielle and Michelle Sharp
on - from
Vancouver, BC Canada
Raffaele Morriale was our driver for multiple days and was outstanding. He did our airport pick ups and toured us through the Amalfi Coast. He was always on time as well as a safe and informative driver. Lello and Lino Tours are very highly recommended.
---

Claudio Pantel
on - from
Germany
We want to thank Lino and his staff for the lovely tours in Campania region. All drivers with good and excellent english (we are from Bayern in Germany but all our family speak english). We´ll always recomand you in the furure. Thanks again. Grüße aus Deutschland
---

Schmid, Linda and Willi
on - from
Okotoks, AB, Canada
We would like to comment on the service provided by our driver Giuliano. He was always on time and provided courteous service. We felt very secure with his safe driving habits. We made a special request to stop at a specific restaurant and he was happy to locate it on his smart phone and take us there. We had no problems communicating as his English was good. Thank you Giuliano for an excellent day.
---
---
* Mandatory fields.
** I authorize to handle my personal data according to Italian law 196/2003 (art. 23 and follows) (Read Privacy Law)